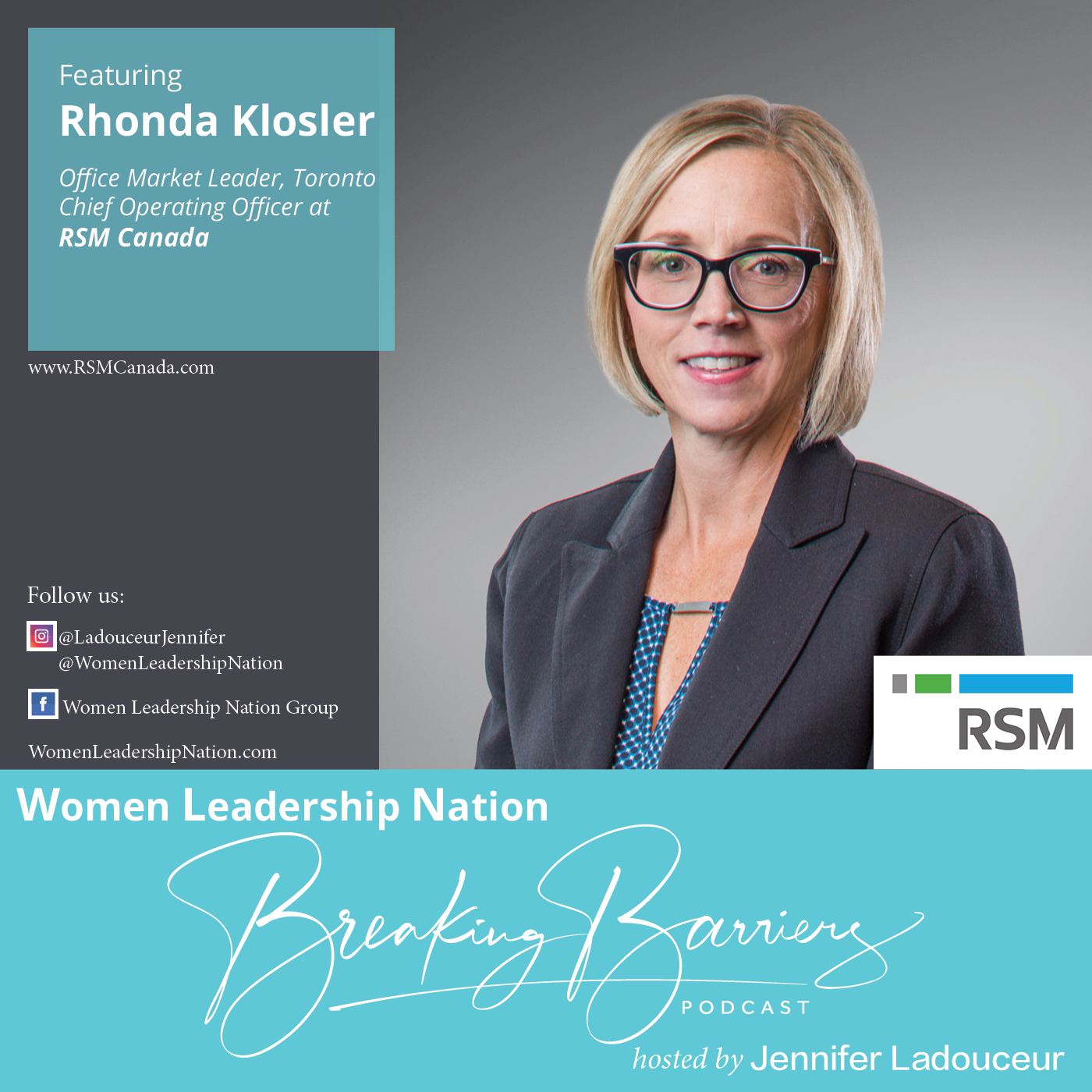 Rhonda Klosler is the National COO and Toronto Office Market Leader at RSM which is an international tax and accounting firm. 
As the national chief operating officer of RSM Canada, Rhonda oversees the firm's finance, human resources, and growth initiatives. In addition, Rhonda leads the Toronto office in her role as office managing partner and executes the firm's growth plans in the Toronto market. Rhonda is a graduate of Brock University, and a CPA, CA, having earned her designation in 1993. That same year, she joined the predecessor firm and was made a partner in 2001. In 2012, Rhonda completed the Harvard Business School Professional Services program.
Become Part of the WLN Community and Help Break Barriers
The Women Leadership Nation (WLN) Breaking Barriers Podcast was created to help women break barriers through the power of storytelling, self-awareness, and knowledge sharing. We started this podcast as a platform for women to share their journeys, experiences, and insights so that we can learn and grow from one another.
We are committed to making a difference. We need your help to continue to share the stories and expert insights of hundreds of women leaders!
You can help by subscribing to our podcast, spreading the word and sharing the podcast with friends, and supporting us through Patreon so that we can continue to dedicate our time to creating great content, offering new resources, and building a strong community of women leaders!
Check out our membership options on Patreon: https://www.patreon.com/Breakingbarriers?fan_landing=true
Thanks for listening and welcome to the Women Leadership Nation community!  
Together we can break barriers!
Jennifer & Shannon
WLN Breaking Barriers Podcast
You can find our podcast on itunes: https://podcasts.apple.com/ca/podcast/women-leadership-nation-breaking-barriers/id1526744087 , Spotify: https://open.spotify.com/show/2dFHnWa2PVprwPPTdoBD2j or wherever you listen to podcasts.