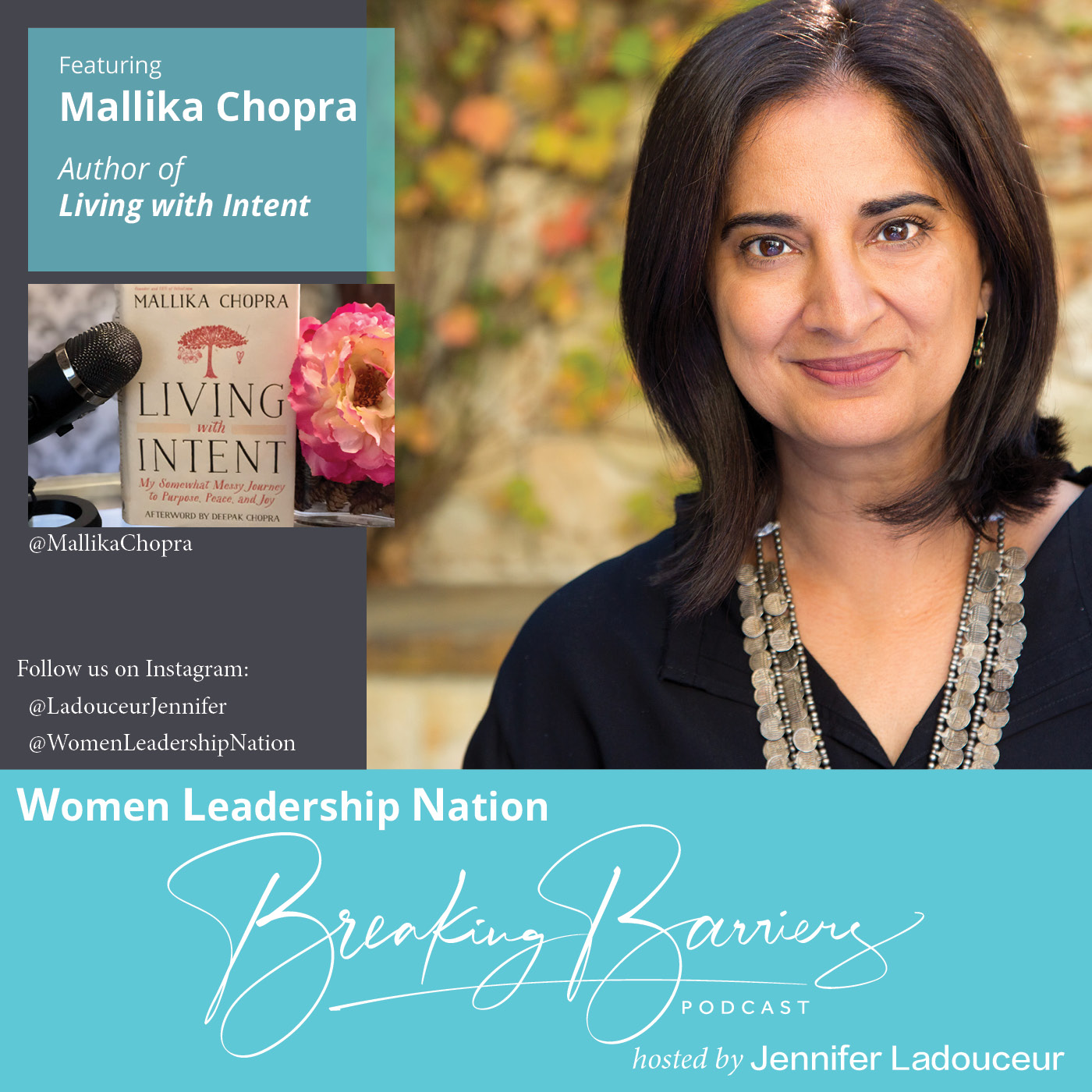 Mallika Chopra, is an Author of Just Breathe & Just Feel, and Living With Intent, Public Speaker, Media Personality, and Entrepreneur. In this inspiring interview, Mallika speaks about the importance of setting intentions and shares six strategies that can help you find your way forward.
Mallika shares her personal story of finding her way as the daughter of well-known health and wellness expert Deepak Chopra. She also shares her personal experience interviewing Eckhart Tolle and what she learned about the importance of living in the present moment. 
At a time when the whole world is dealing with so much uncertainly due to COVID-19, Mallika's book "Living With Intent" and wisdom shared in this interview is needed more now than ever.
Also, keep listening until the end as Mallika kindly takes listeners through a powerful meditation. Something we can all benefit, an opportunity for purposeful mindfulness. @mallikachopra
Become Part of the WLN Community and Help Break Barriers
The Women Leadership Nation (WLN) Breaking Barriers Podcast was created to help women break barriers through the power of storytelling, self-awareness, and knowledge sharing. We started this podcast as a platform for women to share their journeys, experiences, and insights so that we can learn and grow from one another.
We are committed to making a difference. We need your help to continue to share the stories and expert insights of hundreds of women leaders!
You can help by subscribing to our podcast, spreading the word and sharing the podcast with friends, and supporting us through Patreon so that we can continue to dedicate our time to creating great content, offering new resources, and building a strong community of women leaders!
Check out our membership options on Patreon: https://www.patreon.com/Breakingbarriers?fan_landing=true
Thanks for listening and welcome to the Women Leadership Nation community!  
Together we can break barriers!
Jennifer & Shannon
WLN Breaking Barriers Podcast
You can find our podcast on itunes: https://podcasts.apple.com/ca/podcast/women-leadership-nation-breaking-barriers/id1526744087 , Spotify: https://open.spotify.com/show/2dFHnWa2PVprwPPTdoBD2j or wherever you listen to podcasts.